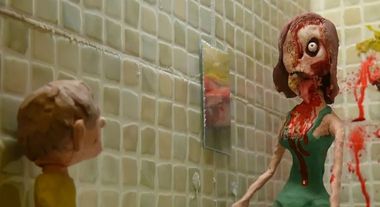 "you gotta be fucking kidding me" - Lee Hardcastle on finding out he won the ABCs competition.
Congratulations to Mr Hardcastle and his wonderfui short that took out top honours. His short Toilet will be the T word in the 2012 Feature film THE ABCs OF DEATH alongside 25 other short films in the most ambitious anthology ever attempted.
Thanks to all those who participated in this competition. We had a lot of fun watching all the entries and see just how much talent is starting to creep out into the sunlight. It was a very close race and here were the runner ups; 2nd place "T is for Talk," by Peter Haynes, 3rd place "T is for Turbo," by François Simard, Anouk Whissel and Yoann-Karl Whissel, 4th place "T is for Table," by Shane Free and 5th place "T is for Termite," by Steve Daniels.